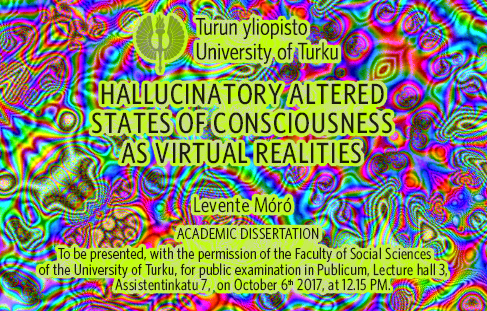 "Hallucinatory Altered States of Consciousness as Virtual Realities"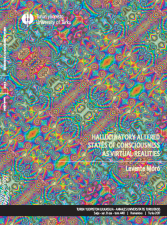 PDF, 1.5 MB
ABSTRACT
The purpose of this doctoral thesis is to investigate altered states of consciousness (ASC) that are marked by hallucinations, occur during hypnosis, or are induced by psychedelic drugs. A multidisciplinary approach is used for enabling the integration of methods and results from various fields of human sciences, such as psychology and phenomenology. The included four studies focus on significant changes occurring in the human mind during deliberately induced, first-person reportable, non-ordinary subjective experiences. Theoretical issues concern the definition and classification of altered consciousness, while empirical research approaches the phenomena with an experimental study on hypnosis and sleepiness, and an online study on psychedelic drug use.
Study I ("Hallucinatory Altered States of Consciousness") is a theoretical analysis that proposes a working definition of hallucinatory ASC based on objectively detectable and subjectively experienced changes in neurocognitive subsystems. To solve the 'selection–definition ordering problem' (i.e., whether to define ASC by selected phenomena, or to select phenomena as ASC by a definition), a stepwise operationalization procedure is also proposed.
Study II ("Hypnotizability, Sleepiness, and Subjective Experience") describes an empirical hypnosis study in 90 subjects by using one newly developed and three previously established self-rating scales. Results indicate that hypnotizability correlates positively with both habitual daytime sleepiness and instantaneous sleepiness after the hypnotic procedure, hence sleep and hypnosis may share common, putatively neurobiological mechanisms regarding transitions between ASC.
Study III ("Coping, Life Purpose, and Spirituality in Psychedelic Drug Users") is based on an online questionnaire survey of 667 psychoactive drug users. Findings point out that psychedelic drug use may facilitate the gain of autognosis (self-knowledge) by rehearsing personal coping strategies in exceptional mental situations. As autognostic psychedelic drug use correlates positively with coping and spirituality, it may also act as a protective factor against drug-related problems.
Study IV ("Sacramental and Spiritual Use of Hallucinogenic Drugs") is a commentary article arguing that sacramentally and spiritually used psychedelic drugs ('entheogens') are associated with a search of metaphysical insight rather than with a mere need to alter one's perception. Therefore, ritual and ceremonial use of hallucinogenic drugs deserves its own category in a drug instrumentalization framework: "to facilitate spiritual and religious activities". The thesis utilizes the overarching concept of virtual realism, stating that phenomenal-level consciousness manifests as a world-simulator by which the mind–brain complex experiences its own virtual information processing as subjective reality. Hence, deliberate manipulation of the experience set and setting parameters by psychologically, pharmacologically, and technologically induced hallucinatory ASC can be a naturally integrable and effective method to extend human consciousness.
Keywords: consciousness; altered states of consciousness; hallucinations; drowsiness; hypnosis; psychedelic drugs; subjective experience; virtual reality